Yes, you can efficiently wash your N95 masks. Quadruple the life of your antibacterial masks with UniMac's tumbler process for decontamination
N95 masks have never been more important and in shorter supply. Reusing this vital piece of PPE requires a fast and effective means to decontaminate masks. Alliance Laundry Systems, in collaboration with a group of researchers from Stanford University have developed a reliable decontamination process utilizing UniMac 75-pound tumble dryers. This method of viral decontamination builds off evidence provided by the National Institute of Health (NIH), which showed that submitting N95 masks to dry heating cycles (70C/158F), similar to those demonstrated by Alliance's dryer reduces the SARS-COV-2 viral load by three orders of magnitude.
BACKGROUND
The goal was to design a process that utilized heat to decontaminate N95 masks. Working with Stanford University researchers to develop the process, UniMac utilized its state-of-the-art test lab and 75-pound tumble dryer to run a variety of scenarios.
Hundreds of hours of research over the course of 3 months went into solidifying this method and results have now been submitted for Emergency Use Authorization from the FDA.
The end result, detailed below, is made possible through the tumbler's unique heater box design and radial airflow pattern. This combination, when deployed in concert with a specifically programmed cycle and compatible equipment, yields the constant temperature necessary to effectively decontaminate the masks without significantly degrading their safety qualities.
Fit and filtration results from external lab testing* confirmed performance and fit for the masks to be decontaminated three times, quadrupling the life of the mask.
*Fit and filtration testing was conducted by the CDC (Center for Disease Control) / NIOSH (National Institute for Occupational Safety and Health) Filtering Facepiece Respirators (FFR) assessment taskforce at the National Personal Protective Technology Laboratory (NPPTL), a research center within NIOSH.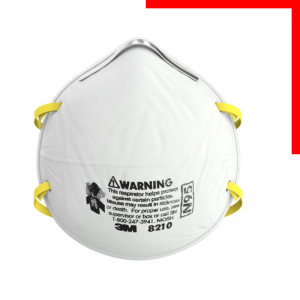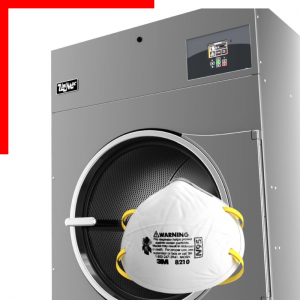 BENEFITS
Deploying the UniMac tumbler process for N95 decontamination brings a variety of benefits for those requiring frequent use of this valuable piece of PPE.
ANSWER TO SHORTAGES.
In times of crisis like the current COVID-19 pandemic, several facilities can operate with a shorter supply of N95 masks utilizing this decontamination process.
WELL-SUPPORTED AND BROAD INSTALL BASE
With an install base of more than 100,000 machines across the United States and our factory-certified distribution service network, UniMac/Alliance is well positioned to deploy this solution immediately and in accordance with tested protocols.
FAST.
The UniMac tumble dryer method of decontamination returns masks to service in under two hours, enabling facilities to rotate gear in and out of service much faster than other methods of decontamination.
COST-EFFECTIVE SOLUTION.
Aside from the UniMac tumble dryer, only basic supplies are needed.
REPEATABLE.
Once the correct cycle has been programmed in the tumbler control, the decontamination process becomes instantly repeatable with the push of a button.
*Fit and filtration testing was conducted by the CDC (Center for Disease Control) / NIOSH (National Institute for Occupational Safety and Health) Filtering Facepiece Respirators (FFR) assessment taskforce at the National Personal Protective Technology Laboratory (NPPTL), a research center within NIOSH.
WHY UNIMAC

MACHINE: The dryer's unique heater box design and radial airflow pattern are able to, with proper programing, maintain the optimum decontamination temperature without harming the integrity of the N95 mask. Quality of the control allows precise, programmable time and temperature settings making it well suited for this project.
SERVICE AREA: Largest manufacturer of commercial laundry equipment, approximately 2.5 times larger than the closest competitor, selling into 140 different countries. Global leaders and heavily invested in engineering, research and development.
ACCESS: With more than 100,000 of these specific UniMac tumble dryers currently installed the United States (and more being built each day), most every community should have nearby access.  The global reach offered by ALS and their sister companies offers an unsurpassed worldwide distribution network.
SUPPORT: UniMac has the largest service and support network in the industry, larger than all competitors combined. Our nationwide distributor network of factory-trained technicians delivers peace of mind that tumblers will be configured to approved decontamination protocols.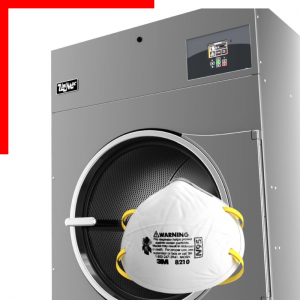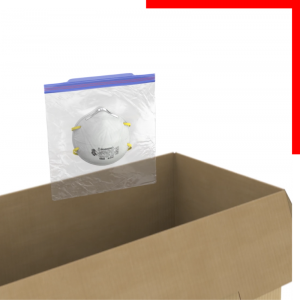 REQUIRED EQUIPMENT
With access to the correct UniMac model tumbler, additional equipment necessary is minimal; making this process easily repeatable. Equipment required includes:
BUNGEE CORDS

ZIPLOCTM GRIP N SEAL 1 GALLON FREEZER BAGS

2 SINGLE WALL, 16 x 16 x 16, CARDBOARD BOXES

BLACK GORILLATM TAPE

COMPATIBLE COMMERCIAL TUMBLE DRYER
PROTOCOL OVERVIEW
The research model for decontaminating N95 masks:
1 User places a tally mark on their mask to note the instance of decontamination (up to 3x).
2  User places their mask in a Ziploc Grip-N-Seal 1 gallon freezer bag and labels the bag with their name/ID to ensure they are getting their mask back.
3 Place bagged masks into the cardboard box, altered to promote airflow and maintain temperature.
4 Insert 2 boxes, stacked at the rear end of the compatible commercial tumble dryer, and secure with bungee cords.
5 Run pre-programmed cycle to meet decontamination protocol.
6 Remove boxes from the tumble dryer, keeping masks intact in their plastic bag, and return the mask to its original user for service.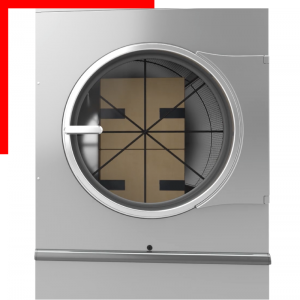 LEGAL DISCLAIMER
The N95 mask decontamination process was tested in collaboration with a group of researchers at Stanford University. Results are limited to the equipment, programmed cycle, process and materials identified in the research protocol for heat-based viral decontamination.  This decontamination process should be appropriately validated before use.  The Content provided here is for INFORMATIONAL PURPOSES ONLY and DOES NOT CONSTITUTE THE PROVIDING OF MEDICAL ADVICE and IS NOT INTENDED TO BE A SUBSTITUTE FOR INDEPENDENT PROFESSIONAL MEDICAL JUDGMENT, ADVICE, DIAGNOSIS, OR TREATMENT. Use of this decontamination process is SOLELY AT YOUR OWN RISK.
The decontamination process was only tested with the following N95 masks:
3M™ Health Care Particulate Respirator and Surgical Mask 1860, N95 (3M Product Number 1860, 3M ID 70070612364, UPC 50707387419429),
3M™ Particulate Respirator 8511, N95 (3M Product Number 8511, 3M ID 70070757557, UPC 50051138543438) and
Halyard Health N95 Particulate Filter Respirator and Surgical Mask (Manufacturer # 62126)
This study was not done in conjunction with the manufacturers of these masks.  Unless the mask manufacturer permits the use of this decontamination process, the masks will not retain their N95 NIOSH approval status after decontamination.