UniMac equipment helps commercial laundry thrive, cut costs after fire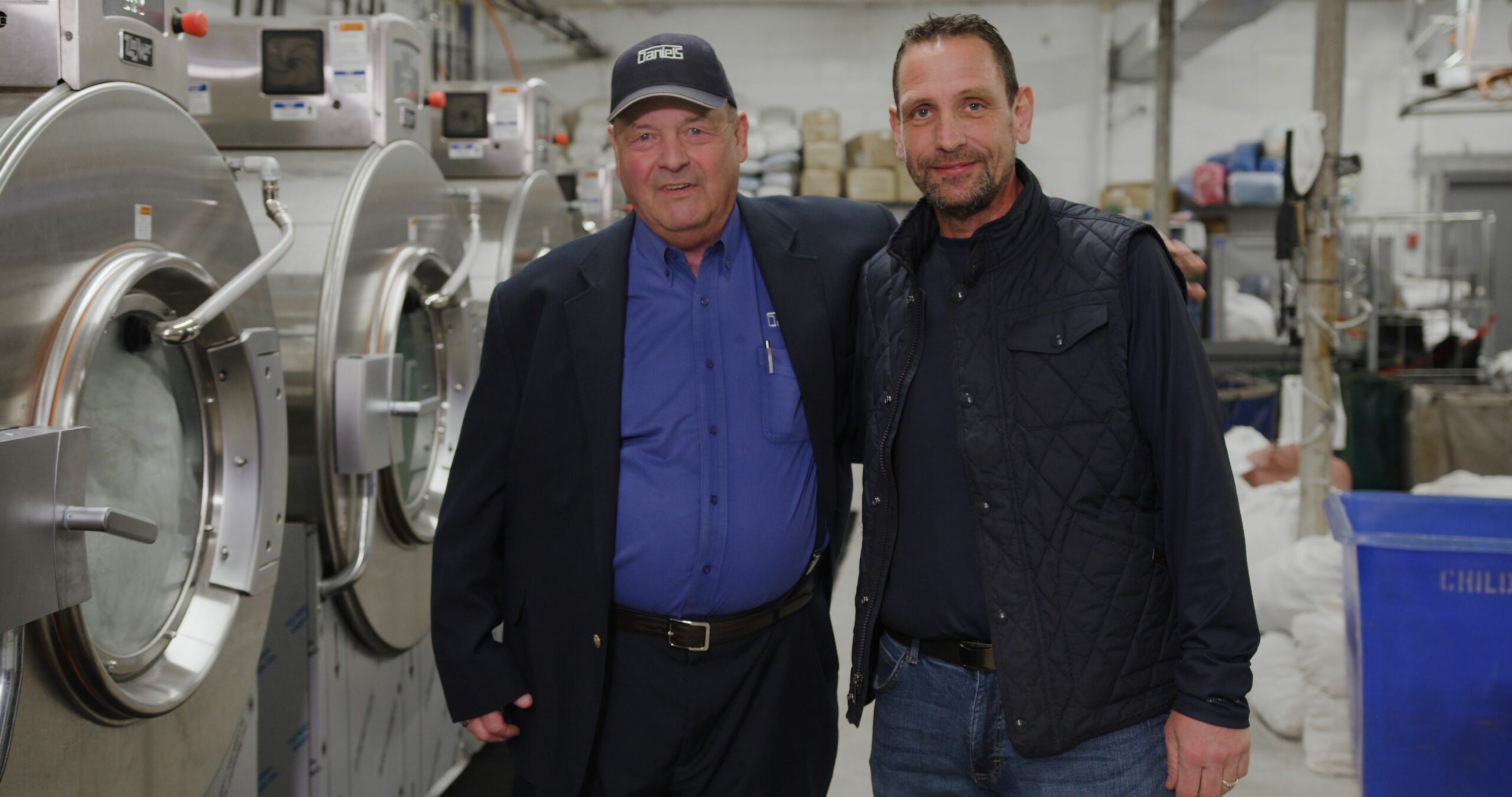 One January night in 2019, Barry Morrill woke up to a call from the police with news that his business was on fire. Morrill, the owner of Childs Linen Service, arrived at the scene to witness the blaze that could easily have spelled the end of the nearly 50-year-old business.
But as soon as the ashes had settled, the task of recovering and rebuilding began.
The damage was extensive. To continue to meet their clients' needs, Childs was forced to outsource its work while rebuilding the facility and installing new equipment. But by August, Childs resumed operations in the formerly damaged building.
Morrill praised Daniels Equipment, who came in to measure around the charred remains. Within two weeks, they had drawn up blueprints of what they envisioned for the space, Morrill said. Morrill also credited Alliance Laundry Systems LLC, which made it easy to finance and purchase new equipment.
Morrill purchased UniMac® equipment, including four 160-pound capacity, two 105-pound capacity and one 65-pound capacity washer-extractors. Those washer-extractors included the UniLinc™ control system, giving him unprecedented machine performance and maintenance data, as well as increased efficiency. He also purchased UniMac® industrial tumbler dryers with OPTidry™ technology, automatically stopping the dryer when the desired dryness is reached.
Morrill said the UniMac® equipment has helped him realize their potential capacity. "We've more than doubled our capacity of what we can run per hour, yet we've also lowered our utility costs," he said, adding that for hotels, they used to run about 900 pounds per hour and now wash about 2,400 pounds an hour.
Morrill expressed an initial uncertainty that the UniMac® equipment could do what Alliance promised, but now considers himself a big believer. For one, each machine clearly tells you what water temperature you're using. With the previous equipment, it was difficult to tell the temperature unless employees went into the boiler room.
"It's a real safeguard," he said.
But what really sold him on UniMac® was the potential to save money through its higher efficiency. "They tell you that you will save money on your water bills, but I thought it was just a sales pitch," Morrill said. "The utility savings I've had from then to now is like night and day."
Morrill reports a 25 to 30 percent increase in business since 2018, yet his water bills are half of what they were pre-fire. Daniels Equipment's design, with its integrated efficiencies, deserves some of the credit. "But the electricity, the gas that runs the dryers … everything is much less, even though business is up 25 to 30 percent."
That is good news for Childs Linen Service, which has a long and rich local and family history. The business was founded in 1976 by Morrill's in-laws, Ken and Ruth Childs. Morrill, with a background in business and accounting, became involved after his father-in-law's passing, but didn't purchase it until 2005, when he became inspired to help the business reach its full potential.
In 2005, Childs had only four part-time employees, "But today we have 10 full-time employees and 10 full-time seasonal employees from mid-May until early-November. There's been a lot of continued growth," Morrill said.
But the number of employees isn't the only thing that has grown at Childs. "We really changed the whole operational dynamic," Morrill said. They have upgraded and moved twice: first in 2008 to a temporary, larger location when their original Lewiston property was purchased by the city as a site for a new park, appropriately named Childs Park, then again in 2011, when they relocated to their current site at 146 N. River Road Auburn, Maine.
"We're again at a point where we will need an addition, or we will have to put warehousing in a different location," Morrill said. When he first took over the business, their facility totaled 3,000 square feet; now, it has expanded to 8,000 square feet.
"But it would be ideal to have 15,000 square feet, or 20,000 square feet if I'm thinking ahead for our future needs."
Childs Linen Service, a full-service commercial laundry and linen rental company, services hotels, nursing homes, medical facilities, shipbuilders, universities, and restaurants throughout Maine. Over the years, the business has integrated itself into a network of communities that rely on its services to provide cleanliness and comfort across the state. And to deliver on its promises and maintain their commitments, Childs Linen Service has and continues to demonstrate not only resilience, but a desire to grow and flourish in the wake of such a great challenge.