Achieve Maximum Performance in Your Hotel With Commercial Laundry Equipment from UniMac
What does maximum performance in your hotel laundry operation look like? If you're like most hotel laundry managers and executive housekeepers we work with, maximum performance ties directly back to lowering costs in three main areas: utilities, linen replacement, and labor costs. These are three of the biggest indicators of success and efficiency in your hotel laundry room. While you can't eliminate these laundry expenses, lowering these costs while still exceeding customer expectations and sanitation standards mean more profits for your hotel.  Let's take a look at how UniMac commercial washers and dryers can help you maximize performance in these three key areas of your hotel's OPL operation.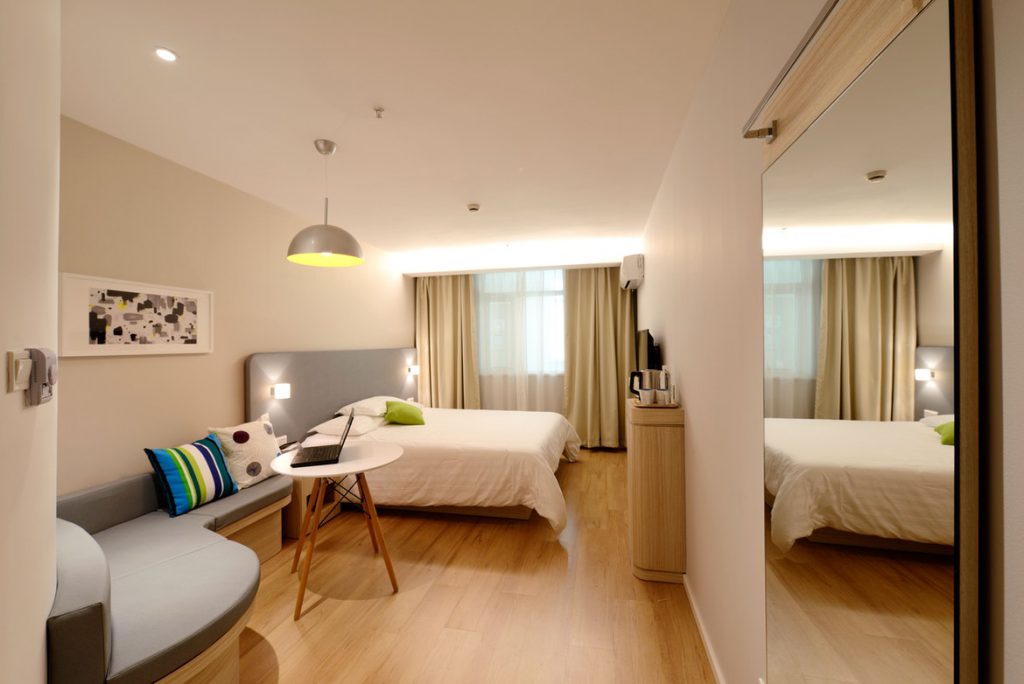 Lower utility costs
Utility costs are a main concern for any commercial laundry operation due to the amount of energy and water used by machines. Using too much water, not properly rinsing, and over-drying linens are major factors that can continue to drive up these. Thankfully, UniMac equipment and technology is here to save the day and help hotels significantly lower their OPL utility costs. We've been focused on green technologies before "going green" was cool. Our equipment can save users more than $2,100 in yearly utilities in comparison to our nearest competitor. Here's how:
Our hotel washer-extractors with 400 G-Force extraction uses less water and requires less time to clean linens, minimizing gas, water, and electricity use.
Our industry-leading OPTispray Rinsing Technology is designed with unique spray hardware and exclusive software that reduces the water required to rinse a load and cuts cycle times.
Nine utility-minimizing ECO cycles reduce water usage and operating costs. In fact, OPTispray Rinsing Technology uses 39% less water than competitor brands with the same wash quality.
This highly-effective spray rinse carries away dirt and chemicals better than competitors and leaves less residue behind — providing far superior rinse results. A better wash means it's less likely linens will have to go through multiple cycles.
Cutting-edge OPTidry Over-dry Prevention Technology stops your hotel dryers at the exact moment the ideal dryness level is reached, eliminating additional expenses incurred from drying loads too long.
Our Step Dry feature enables hotel dryers to use high heat until the load is half dry, then cuts energy costs by lowering the temperature for the remainder of the cycle.
UniMac dryers have dryness level settings ranging from 0 to 40 percent to cut costs and meet your hotel's specific needs.
Almost all washers have programmable controls through UniLinc Technology that allow the cycle time, water levels, and temperatures to be precisely controlled for wash quality and energy efficiency.
UniLinc also allows laundry room managers and employees to track machines and notice issues, such as leakage or slow draining, that can drive up utility costs.
Reduce linen replacement costs
Linens aren't cheap. How much would it cost you to replace all of the linens in your hotel rooms? Now multiply that by each room in your hotel and consider replacing them multiple times per year. The costs quickly add up. Our statistics show that linen replacement can account for 13-25% of your budget. Many hoteliers are feeling the strain of frequent linen replacements already. While hotels will have to replace their bedding, towels, and other linens eventually, the longer you can keep them in rotation, the better. Our technology can help you do just that.
As noted above, our industry-leading OPTispray Rinsing Technology cleans away dirt and chemicals better than other laundry equipment and leaves less residue behind. This improved wash helps linens last longer due to reduced strain on your linens and less damage from chemical residue.
A better wash from UniMac helps tackle tough stains and dirt that may otherwise render linens unusable.
Programmable controls with customized wash settings and water levels allow for superior clean of any type of fabric — from fluffy towel clothes to silk table cloths to bulky bedding.
The state-of-the-art OPTidry Over-dry Prevention Technology noted above stops your hotel dryers when the ideal dryness level is reached. This helps reduce the strain over over-drying on your fabric that can cause fabrics to wear out, shrink, melt, or burn. Our research shows this extends linen life by reducing fiber loss by 31%.
Lower labor costs
Of course, labor is another huge cost when it comes to laundry for hotels. If you're like most hotels, it's probably one of your top monthly expenses. Your housekeeping staff works hard, which is why they need hard-working commercial laundry equipment from UniMac to back them up. The right laundry equipment can help your housekeeping team make the most of their time and energy, which in turn saves hotels on staffing/labor costs. Let's break it down.
Our 400 G-Force Extraction is the fastest hard mount washer-extractor speed in the industry. That means it will work as hard as your team does and maximize throughput — allowing staff to do more in less time.
Our OPTidry Over-dry Prevention Technology reduces cycle time by 12% compared to competitor models, which again allows housekeeping and laundry staff to get more laundry done in less time.
As noted above, the OPTidry Over-dry Prevention Technology that stops your hotel dryers at peak dryness level helps hotels maximize staff efficiency and time per load.
Commercial washers and dryers are easy to use, operate, and maintain, which minimizes training and onboarding time and expenses for hoteliers.
TotalVue, powered by UniLinc, gives staff total visibility of your hotel's laundry operation. These reporting tools make it easy to manage your laundry needs, maintain equipment, train staff, and improve efficiency in your laundry room.
What's next?
So there you have it! These are just a few ways that UniMac commercial laundry equipment and technology can help your hotel laundry department up its game in these critical cost areas. Click below to learn more about laundry services for hotels or contact one of our laundry experts.
Learn more about UniMac industrial laundry equipment and view case studies from real-life hotels