Stacked Washer / Dryers
Stack Washer/Dryers – Gas - UTGE5ASP115TW01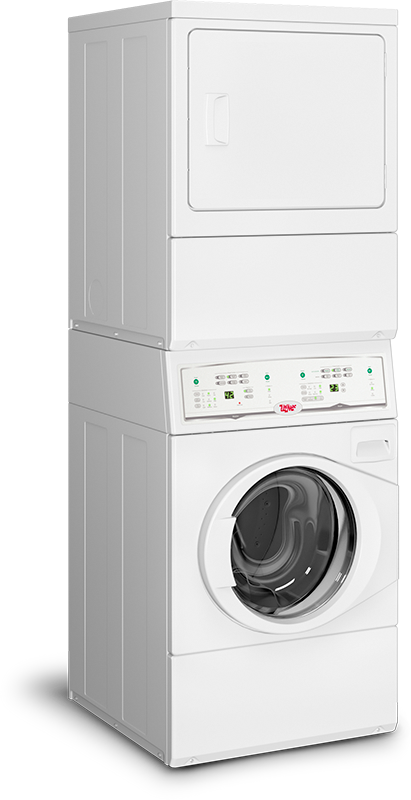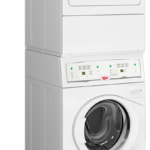 These durable washer dryer combinations offer the same durability and performance of other UniMac products while also maximizing the efficiency of your floor space.
View Controls
Available Options
Specifications
Control OptionsElectronic Homestyle
LocationFront
Width – in (mm)26 7/8" (683)
Depth – in (mm)27 3/4" (704)
Height – in (mm)78 3/16" (1986)
Cylinder Speed – RPM (G-Force)440 (1200)
MachineWasherDryer
Capacity – lb (kg)21.5 (9.5)18 (8.2)
Cylinder Volume – cu. ft. (liters)3.42 (96.8)7.0 (198)
Cylinder FinishStainless SteelGalvanized
Motor Size – HP (kW)Variable Speed Induction 0.9 (0.67)1/3 (0.25)
Available CyclesHeavy Duty, Normal Eco, Perm Press, Delicate, Rinse & Spin, Spin OnlyRegular, Perm Press, Delicate, Time Dry, Quick Dry, Fluff Up
Door TypeWindow or Solid
Water Consumption per Cycle – g (l)13.68 (51.8)
IWF (Water Factor)4.0
IMEF (Modified Energy Factor)2.20
Gas Inlet Connection – in (mm)3/8 (9.5)
Heat Input Power22,500 Btu/hr
Exhaust Outlet Diameter – in (mm)4 (102)
Airflow - cfm (liters/sec)220 (105)
Available Water Temperatures3
Water Pressure – PSI (Bar)20-120 (1.4/8.3)
Cycle Indicator LightsYes
Available ColorsWhite
Voltage / Hz / Phase Circuit120/240/60/1 – 30 Amp
Shipping Dimensions Approx.
Width – in (mm)29" (737)
Depth – in (mm)32 3/4" (832)
Height – in (mm)80" (2032)
Net Weight – lb (kg)390 (177)
Domestic Shipping Weight – lb (kg)425 (193)
Agency ApprovalsCSA
ADA CompliantNo
Features
Control Option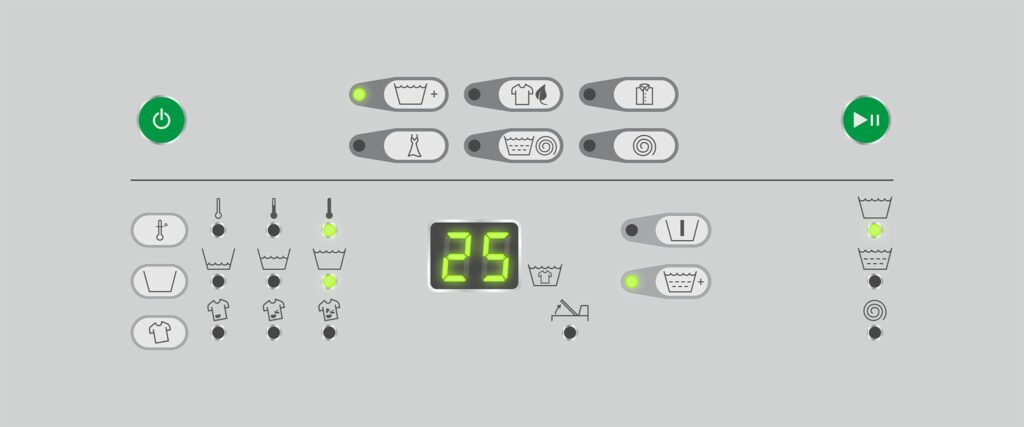 Electronic Homestyle Control
UniMac's redesigned front load commercial washer features innovations so advanced, it's changing the perception of what is possible in a front load washer product. The Electronic Homestyle Control system features a time remaining display, six preset cycle buttons, cycle adjustability, additional cycle options and status indicator lights.
Designed for long-lasting commercial use
Lower Labor Costs
These stack units are the ultimate space savers, allowing you to maximize the efficiency of your floor space and make your staff more efficient.