Commercial Stack Tumble Dryers
45 lb capacity - UTT45NV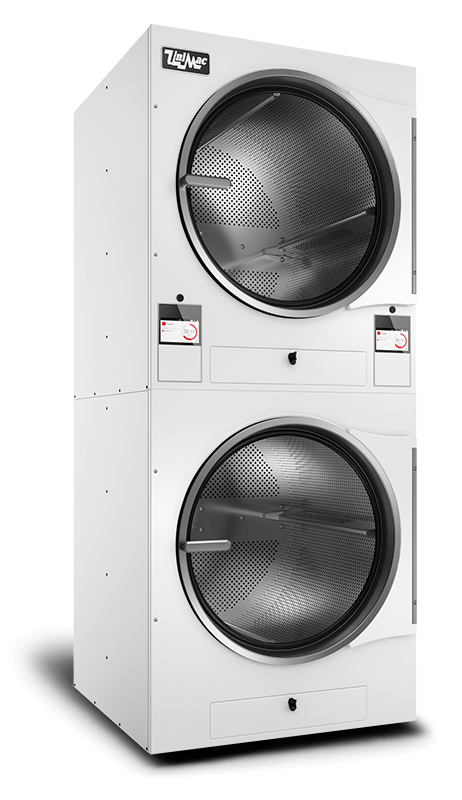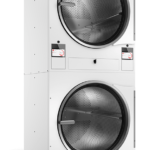 If you have more laundry than you have floor space, UniMac stack tumblers are the solution for you. These high-performance dryers deliver unmatched efficiency and minimized costs just like standard tumble dryers, but allow you to add 60 or 90 pounds of rated capacity to your on-premises laundry operation without taking up added square footage.
Available Options
Specifications
Control OptionsUniLinc Touch
Capacity – lb (kg)45 (20) x 2
Width – in (mm)34.5" (875)
Depth – in (mm)49.5" (1260)
Height – in (mm)81.3" (2065)
Cylinder Diameter – in (mm)33.0" (838)
Cylinder Depth – in (mm)30.0" (762)
Cylinder Volume – cu. ft. (liters)14.8 (420)
Reversing CylinderStandard
Door Opening Size – in (mm)26.9" (683)
Heat Input Power95,000 x 2 Btu/hr
Gas Inlet Connection – in (mm)*0.5
Air Outlet - in (mm)*1 x 10 (250) Oval
Airflow - cfm (liters/sec)*2 x 600 (285)
Motor Size – HP (kW)*2 x 0.5
Electrical Specs*
(X) 200-240V/50/60/1-3**12
(N) 440-480V/50-60/3**6
Shipping Dimensions Approx.**
Width – in (mm)**35.5 (900)
Depth – in (mm)**54.0 (1370)
Height – in (mm)**84.9 (2160)
Net Weight – lb (kg)**690 (315)
Domestic Shipping Weight – lb (kg)**735 (335)
Agency Approvals**CSA

*Field conversions available for LP gas.
**X voltage can be connected to 1 or 3 phase power and operates on 1 phase only
Features
Control Option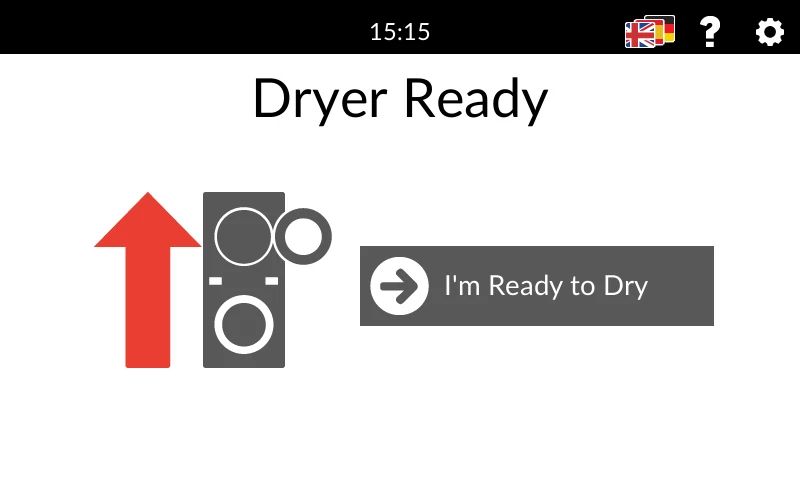 he biggest threat to quality is staff selecting the incorrect wash cycle. UniLinc Touch virtually eliminates that threat with the most intuitive control on the market.
34 languages ensure all staff cannot just operate, but operate it correctly
Real words – no codes – no ambiguity
Easy-to-use, intuitive controls streamline employee training and serve as a virtual laundry manager to ensure maximum labor efficiency (a giant bonus with staff turnover generally being high).
Continuity – same control on washer-extractors and tumble dryers
Ultimate flexibility means your operation is positioned for success well into the future.
Delayed Start – Get a 30-minute head start on the workday with our programmable advanced start feature.
Maximum Energy Efficiency
Low-Cost Installation
Each machine is designed to fit through a standard 36-inch doorway, and features a reversible steel doorway making installation flexible and easy.
Lower Utility and Labor Costs
Our stack tumblers achieve the perfect balance between drying temperature, airflow pattern and usable cylinder space for maximum energy efficiency, shortening drying times—and reducing your utility and labor costs.