Washers
Front Load Washer - UFNE5BJP115TW01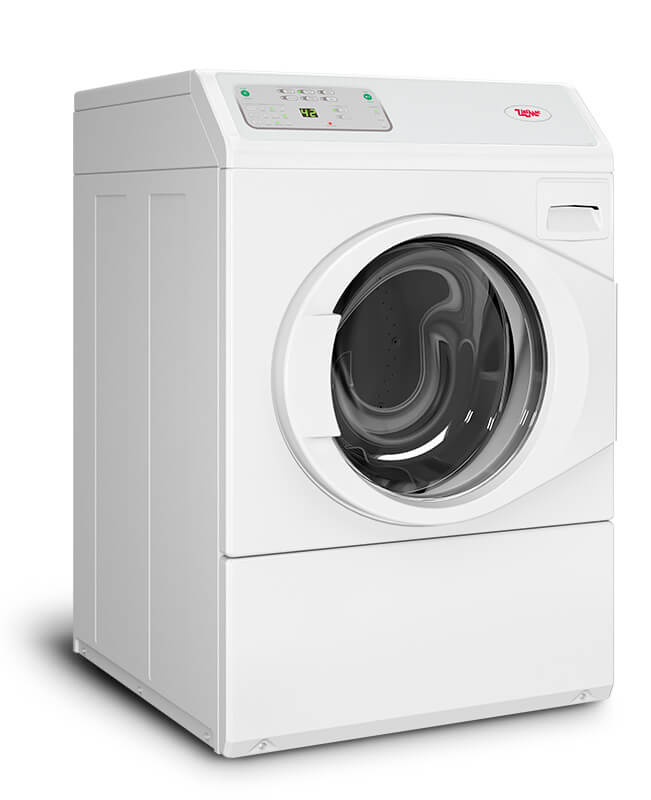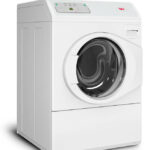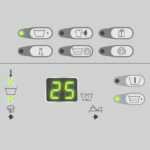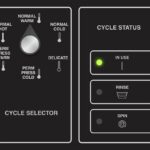 Every on-premises laundry facility needs equipment that can be trusted for long lasting performance, efficiency and cost effectiveness. However not all on-premises laundry operations require large capacity laundry equipment. For facilities that demand superior quality on a smaller scale, or wish to supplement their current lineup with smaller alternatives, UniMac® light commercial top load and front load washers are the answer.
Available Options
Specifications
Control OptionsElectronic
LocationFront
Capacity – lb (kg)21.5 (9.5)
Width – in (mm)26 7/8 (683)
Depth – in (mm)27 3/4 (704)
Height – in (mm)40 7/16 (1027)
Cylinder Volume – cu. ft. (liters)3.42 (96.8)
Cylinder Speed – RPM (G-Force)440 (1200)
Cylinder FinishStainless Steel
Motor Size – HP (kW)Variable Speed Induction 0.9 (0.67)
Water Consumption per Cycle – g (l)13.68 (51.8)
IWF (Water Factor)4.0
IMEF (Modified Energy Factor)2.20
Available Water Temperatures3
Water Pressure – PSI (Bar)20-120 (1.4/8.3)
Available CyclesHeavy Duty, Normal Eco, Perm Press, Delicate, Rinse & Spin, Spin Only
Cycle Indicator LightsYes
Available ColorsWhite
Electrical Specs120/60/1 – 15 Amp
Net Weight – lb (kg)260 (118)
Domestic Shipping Weight – lb (kg)270 (122)
Shipping Dimensions Approx.
Width – in (mm)30 (762)
Depth – in (mm)34 (864)
Height – in (mm)45 1/2 (1156)
Agency ApprovalscULus
ADA CompliantYes
Features
Control Option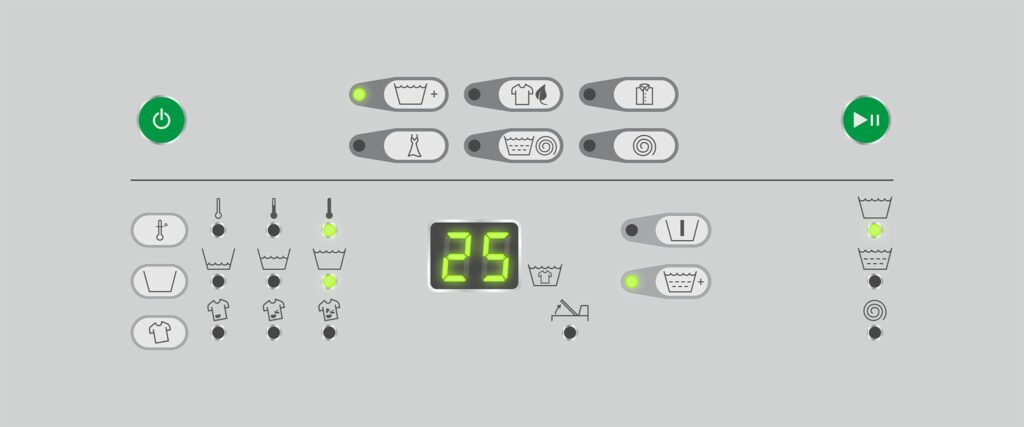 Electronic Control
UniMac's redesigned front load commercial washer features innovations so advanced, it's changing the perception of what is possible in a front load washer product. The Electronic Control system features a time remaining display, six preset cycle buttons, cycle adjustability, additional cycle options and status indicator lights.
Heavy Duty Performance
Dynamic Balancing Technology
Uses cutting-edge suspension and sensing to automatically detect and redistribute even the most unbalanced loads for uninterrupted cycles and increased throughput. The result? Shorter cycle times for maximized productivity.
Impressive 440 G-Force
High speed extraction maximizes moisture removal and minimizes drying times, helping to deliver the industry's absolute lowest cost of ownership.
20% Larger Capacity
With a mere 6% increase in water usage compared to previous front load washer models, this upgrade helps to maximize throughput while minimizing costs.
Less Vibration
Delivers near silent operation and significantly reduces machine wear and tear. Another benefit? Less critical leveling at installation.
Upgraded Bearing Protection System
Carries on the UniMac tradition of unparalleled durability with an additional lip seal, functioning weep hole and an enhancement to bearing placement and seal sleeve.